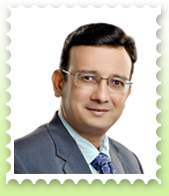 Dr Mukesh Porwal,
M.S., F.R.F., F.I.C.O (Belgium)
RETINA HOSPITAL
Porwal Eye Clinic,
Laser & Research Centre
Opp. Old Cancer Hospital,
Near Kishanpara Chowk,
RAJKOT-1, Gujarat, India.
91 - 281 - 2456 500
91 - 281 - 2456 600
www.Retina-Hospital.in
info@retina-hospital.in
Patient Walk-in Time
9am - 11am (Mon-Sat)
4pm - 6pm (Mon-Fri)

You are visiting the official website of RETINA HOSPITAL, Porwal Eye Clinic, Laser & Research Centre situated at Rajkot (Gujarat) in India. Your interest in Retina Hospital is greatly appreciated.
Welcome aboard.

Diseases affecting the retina of human eye are generally sight-threatening and potentially blinding. Retinal diseases form some of the most difficult medical conditions to manage in the human body. Even Eye doctors & Eye surgeons (Ophthalmologists) need specialized training & experience of many years to capably diagnose & treat retina-related conditions.
RETINA HOSPITAL is a state-of-the-art, super-specialty tertiary eye-care hospital focused mainly on providing dedicated services of specialist Retina doctors (Vitreo-Retinal surgeons or Retinologists) in the intensely demanding fields of Surgical Retina & Medical Retina, with the primary aim to provide quality and affordable care to patients suffering from Retinal diseases.
For Appointments
0281 - 2456 500
0281 - 2456 600